I like it! … I am constantly thinking "What if" .. sometimes i think to much about "what if"
"what if a global stock market or currency meltdown"?? .. or bond crisis .. huh !! .. right..That could never happen???!!!…what must i be thinking!!
i guess own some Gold (Like owning some Great FIRE Insurance).. hope I am wrong .. not much to lose .. but "what if" my gut tells me i am right?? .. at least i sleep a little better owning some.
when it come to planes, "what if" must be practiced!!! .. and probably could never practice to much  eh?
"what if" .. you had to land a jet on the Hudson river full of passengers? ….oh my
and to think that huge jet was brought down by a "bird strike"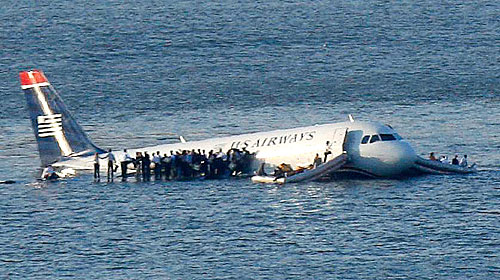 US Airways Flight 1549 was an Airbus A320-200, registered N106US, operating a US Airways scheduled domestic commercial passenger flight from LaGuardia Airport in New York City to Seattle–Tacoma International Airport in SeaTac, Washington, with a stopover at Charlotte/Douglas International Airport in Charlotte, North Carolina. On January 15, 2009, at 3:27 p.m. EST, the plane struck a flock of Canada geese during its initial climb out, lost engine power, and ditched in the Hudson River off midtown Manhattan with no loss of life.
The bird strike, which occurred just northeast of the George Washington Bridge about three minutes into the flight, resulted in the rapid loss of thrust from both engines. When the crew of the aircraft determined that they would be unable to reliably reach any airfield, they turned southbound and glided over the Hudson, finally ditching the airliner near the USS Intrepid museum about three minutes after losing power. All 155 occupants safely evacuated the airliner, which was still virtually intact though partially submerged and slowly sinking, and were quickly rescued by nearby ferries and other watercraft. The incident became known as the "Miracle on the Hudson".[4][5][6]
The entire crew of Flight 1549 was later awarded the Master's Medal of the Guild of Air Pilots and Air Navigators. The award citation read, "This emergency ditching and evacuation, with the loss of no lives, is a heroic and unique aviation achievement."[7] It was described by NTSB board member Kitty Higgins as "the most successful ditching in aviation history."[8][9]